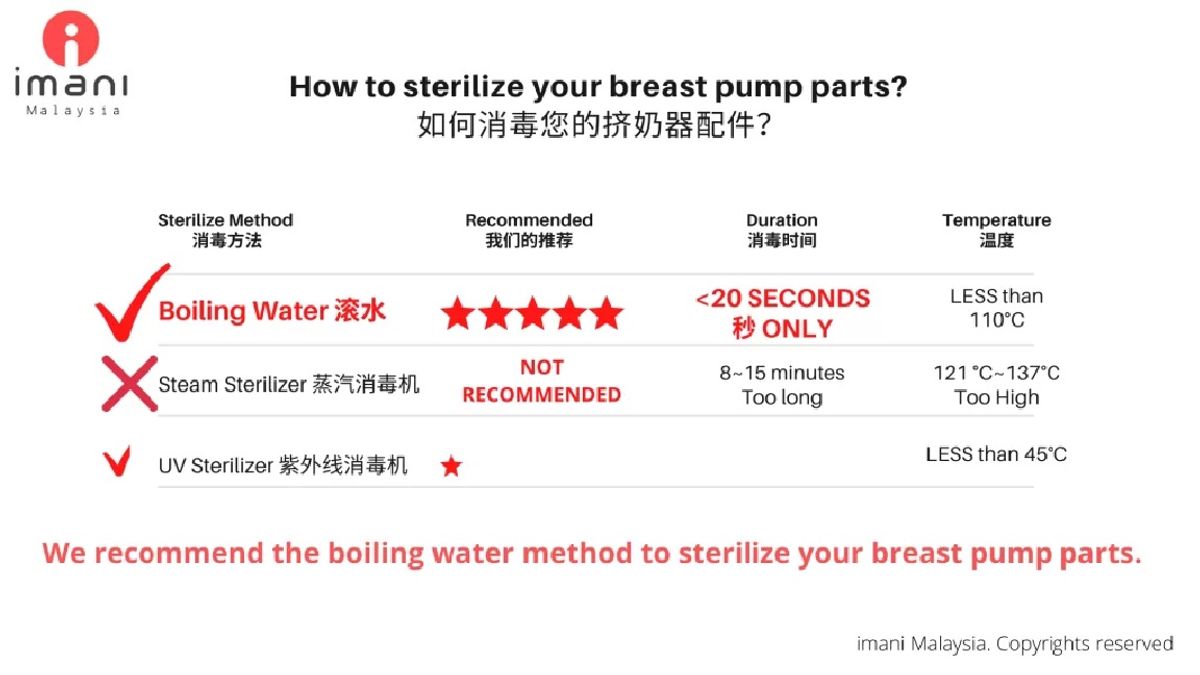 Which part should i cleanand sterilise?
Part to be cleaned/sterilized
cup, connector, funnel
valve
protector
insert
breast shield
Things cant be sterilized:
white cap,
y tubing
pump body
How to safely clean /sterilize your breast pump
Hot water and airdry: Rinse thoroughly in hot water <20 seconds /saat/ 秒 ONLY
UV sterilizer: Low temperature <45 Celsius , < 30min
Steam sterilizer: NO!
Prepare for first time use
You need to wash and sterilize parts that come in contact with your baby's milk
This includes the valve, protector, connector, funnel, cup and insert (if you have it)
Make sure you fully disassemble the valve, protector, connector, funnel and cup prior to wash and sterilisation.
DO NOT sterilize the tubing or pump body. Getting the tubing wet can cause damage to the motor and causes mould, mildlew and bacteria to grow.
How to wash your breast pump parts?
We recommend hand-washing your parts.
Prepare a separate wash basin, dedicated soft sponge or soft bottle brush
Disassemble all parts included valve, protector, connector, funnel, cup and insert (if applicable)
Fill up the basin with warm soapy water (baby bottle detergent)
Wash each parts with hands/soft sponge/soft bottle sponge. If you use sponge, you will need to replace new sponge frequently.
DO NOT use hard brush to scratch the parts (*parts scratched or tore should not be used to avoid the plastic toxin contamination)
DO NOT use dishwash detergent.
Rinse thoroughly in cool water.
Air dry completely on drying rack or clean paper towel before assembling.
Sterilize Accessories with Hot Water
After washing the parts, you could continue with sterilization.
The stock post should be big enough to fit all the parts.
Put hot water into stock pot, place all parts into it,
For ESSTEN parts (Cup and connector), rinse for less than 20 seconds (NOT on fire). Make sure the parts fully dip in the hot water.
For silicone parts (valve, protector and silicone funnel), dip into the hot water for about 3 minutes.
Take out the parts with tongues/clip and leave the parts on dying rack/paper towel to air dry.